news
After nearly four months, I am finally back. What have I been up to? Hmm, well, I've talked to a lot of interesting new people over the last few months, did a shitload of homework, hung around with a uh special someone, and played bass a lot. I've been listening to a lot of various music lately too, mostly a lot of assorted punk and emo.

Sharp is still missing in action. It's been clarified numerous times that The Rentals have indeed broken up. The stance as of now is that Matt is still supposedly out somewhere recording new material. Of course, the rumor mill has been saying that for about a year now. Will we ever get new material from Matt? I have no idea!

Weezer is continuning to suck. I think they are trying to be "emo-metal." Not cool.

Blake Schwarzenbach is a genius, and Jawbreaker is one of the greatest bands ever.

Someone named "Billy Bob" started up a new Sharp site, and after browsing it, I have determined that it beats this site in every way for the most part. Check it out at http://mattsharp.gloriousnoise.com. It's pretty damn cool, keep it up...

I accidentally deleted the counter to the site, and I do not feel like replacing it.

Emo has taken over the masses, and is now the "new cool thing." I've come to the realization that emo is pretty much dead. This saddens me. Got memories? Save em.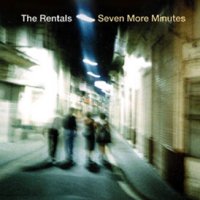 Seven More Minutes helped me make it through a really shitty summer. Pick it up if you haven't already. It's really great, and is definitely Matt's greatest achievement. It's going to be on my top all time uh list...

That's all I've got. Thanks for sticking around, and checking the site occasionally. If any new information pops up, I'll let you know. I promise, really, I'll be back...

~H
Hey, sorry for slacking off for a while. Pictures from the 1995 Weezer show in Roseland are finally up. My server was having some issues, long story, don't ask. Thanks again to Millhouse83. Click here for the pictures. No news really... :(
I'm not going to update any more on the Weezer situation. All I have to say is that my best wishes are with Mikey & his family. In other news...

Thanks to Millhouse83, I have a few pictures from a '95 Weezer show in Roseland...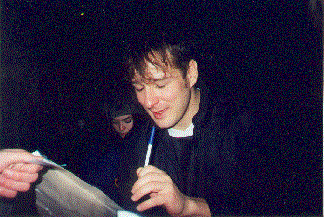 There's one of Matt signing autographs...click here for the rest.
8/13/01: It just got a little odd....
Read this statement from Karl at www.weezer.net:

"...meanwhile, not everything is so rosy. I've learned that Mikey has not come to rehearsals in L.A. yet, due to some sort of private medical problem (no, not a cliche rock-star drug problem!). He has been holed up in Boston near his family. The rest of the guys are waiting for word, but have decided that theres so much work coming up for the band that they had better try out some bass players in case Mikey can't make it. So in between learning new songs with just Brian Pat and Rivers in rehearsal, theyve begun trying out different bass players, which as any band knows is extremely difficult. Thats all I know for now, and we'll keep you posted... "

Mikey sick? Trying out different bass players? What? This is all amazingly strange. I'd sure like to know what's going on. I was reading through the message boards and people are posting messages like, "Bring Matt back."

The whole situation is very surreal. I like Mikey. I think he's a cool guy, and a great bass. My best wishes are with him and his family. Here's to a speedy recovery. As for the Sharp coming back rumors...yeah, dream on kids...

I'll keep you posted...
---
Searching For Sharp is ęcopyright 2001 -
Written, Designed & Maintained by amillionscreams
This site is completely unofficial